photo credit: mailonline.com
She may no longer be feeling 22, but her sense of style is timeless. She never used to top my closet-envy list - that was reserved for Emma Watson, Alexa Chung and Vanessa Hudgens! Yet during the Paper Towns Premiere season, I fell in love with
every outfit
she wore; I don't think there's a look I didn't like.
She just kept getting it right, from floppy hats and two-tone brogues (the love is eternal), to dressed down formal and dressed up casual. Lately I've been searching for my own - more affordable - version of Cara's closet, so I thought it would share it here. Read on for some of my favourite looks, and how to take them from WonderList to shopping cart.
photo credit: mailonline.com
Possibly my most-loved look of all; favourite designers, Eiffel Tower backdrop and flower prop? This Cara outfit ticks boxes that don't even exist in the real world. It is so clearly 'my style' - mum responded "Sophie we need get it for your 21st!" when she saw the photos. Long story short, I told her the label and they are back on the WonderList… Packham and Saab are but a dream.
Jenny Packham
and
Elie Saab
have to be two of my favourite designers. Elegant, effortless ethereal - they are three words that couldn't be more fitting here! Ever since I saw
that dress
on a certain Blair Waldorf, I fell in love with Jenny Packham - then the Duchess of Cambridge wore it, and the world fell in love too! It is still my dream to have an
Elie Saab wedding gown
, and I might be willing to give up the Jimmy Choo shoes and Chanel purse in the process…
photo credit: mailonline.com
Her red carpet looks kept hitting it. I already own a pair of check shorts like these plus a lace top like the one in the middle - which I have to gather the courage to wear! Somehow, I'm not sure if Exeter's Arena compares to The Late Night show? Or maybe I just need to be more Cara carefree.
FROM BROGUE TO VOGUE
photo credit: mailonline.com & mulberry.co.uk
I understand I have
a slight obsession
here, and I would apologise… if this obsession were not
completely legitimate
yet
shockingly unacknowledged
in the fashion world. I am talking, of course, about
two tone brogues.
I have my beloved Hattie pair, but the monochrome oxfords have also stolen my heart. I'm not sure Cara's designer finds are quite in my price range, but I've found some very credible alternatives to channel
le vie de
Chanel
.
Not only do I love all of the pairs in the above photos, but the whole outfits are wonderful. The full monochrome look is smart but quirky with the oxfords. The dungarees could be disastrous on anyone else - 5ft 3 me would look like a hippy gone wrong - but with her it just works.
photo credit: mailonline.com
I've talked about my obsession with floppy hats and duffle coats before, so it's no surprise these outfits are all winners for me. It shows how just one clothing choice can transform an outfit, such as the shoes on the right, shorts in the middle and hat on the right. The only lesson you need for how to do smart-casual. Ever.
EMBRACE YOUR WEIRDNESS!

This is the first line of her twitter bio and says it all really. She doesn't care about being different and refuses to live to please other people; this is something I am guilty of, but want to change, so Cara's outlook is a refreshing change!

STOP LABELING, START LIVING.

Another line from her twitter bio (seriously, this thing should win a booker - better than some of the drivel that lands on the list) She advocates for gay rights, speaks out on mental health, and most recently has helped raise funds for Cecil the Lion.

OFF-DUTY STYLE

: I'm talking onesies, hotdog costumes and pizza hats.
photo credit: Instagram
UNFILTERED

: an industry dominated by photoshop and image, having someone who isn't scared of showing the unfiltered moments is a rare and powerful thing.

SOCIAL MEDIA

: I've touched on her twitter already, but I love her Instagram. Since becoming a blogger, I have worked on making my IG account more themed, - I did find myself starting to compare with others.. Go onto Cara's account and you will find photos in every shape and size . Life isn't uniform, so why should our blog photos need to be? It is for this reason that I've re-included gifs on this blog, simply because I love them!
CECIL THE RABBIT: Bunny Delevingne has his his own IG page. #RabbitsofInstagram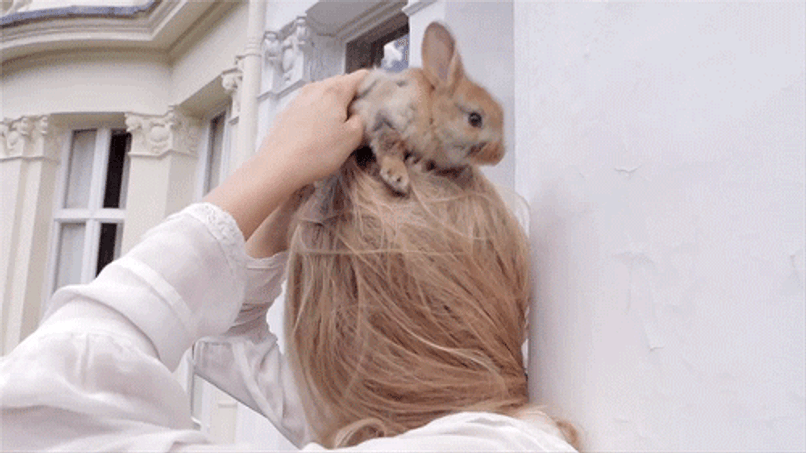 photo credit: gq.com
THE EYEBROWS

: I have always had bushier eyebrows and, as with the gap in my teeth, it was an insecurity of mine. In my mid-teens I went through a phase where I started to pluck them but essentially went too far - picture the Friends episode where Joey gets his head-shots, and that was the fate of my poor brows… Until Cara came onto the scene. Long story short I haven't used eyebrow tweezers in about three years!
Do you want any items from Cara's Closet?